Board of Directors
Board Members
Altamease Hayes - CRP Director (Elder)
email: altahayes@rhinosnation.com
Eloise Strauther - Marketing Director (more info coming soon)
email: eloise@rhinosnation.com
Tarrus Pointer - Business Liaison Director
email: tarrus@rhinosnation.com
Tarrus Pointer is a Rhinos' Nation Board Member and the Business Liaison Director.
He oversees all business deals between Rhinos' Nation Sponsors and Rhinos' Nation.
He received his B.S. from University of Memphis and his MBA from Strayer University. He is a military veteran.
He worked at IBM, Federal Express, Ingram Micro, Solectron and Fujitsu computers. After his career as a manager, technician, Team Lead, Soldier and supervisor, he decided to open his own company.
He is the CEO of Visionary Concepts, LLC.
In addition to computer repairs, sales, and Audio Visual, Mr. Pointer is also involved in business consulting.
He currently resides in Memphis, TN with his wife and four children.
Darrick L. Tucker - President, Founder & CEO - Rhinos' Nation & Young Rhinos' Club
email: dltuck@rhinosnation.com
Entrepreneur and Author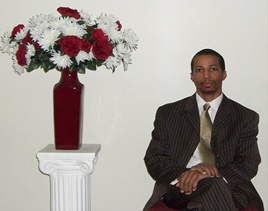 Our President/CEO - Mr. Tucker created six successful businesses in Texas & Tennessee under the umbrella of
The Tucker Group. The Tucker Group was the parent company for:
Nitro Enterprises: a commercial furniture company
United Freight Systems: a courier company
Easy Pickin's: a minority small business lending company
COCD: a Christian information company
Paradise-MC: a marketing, consulting, web site design firm and publishing company


The Tucker Group is now the parent company to TBG a black information company and Mr.Tucker's newest and biggest venture Rhinos' Nation & Young Rhinos' Club! Here they have plans on creating and accomplishing something that has never been done before here in America, ever! Building BLACK communities where they are not only self-sufficient but also a major power house, nationwide!!!
If you also want BLACK people to do better you are going to love what you see and what we have planned!
Become a member/sponsor today and join us in helping BLACKS to do great things. Don't just sit there being a spectator and watch this ride pass you by. Come alone and take the trip with us. There is plenty of room aboard for this journey! We would love to have you with us, if you are truly about helping BLACKS to do better!

30+ years in business.

Mr. Tucker's

c

ompanies

have won contracts with and worked with some of the largest companies in the world:

World Cup USA '94, Bank of America, Texas Instrument, McDonald's, Bank One,
D/FW International Airport Board and other major corporations!

Mr. Tucker's companies have contracted and worked with several Fortune 500 Corporations.
"The Rebirth of a BLACK Nation"
Long-awaited book by Mr. Tucker was released November 26, 2010, loaded with testimonies of Entrepreneurs inspired by Mr. Tucker. Truths about BLACK People before slavery till today. Real History, not that junk they feed our children in most schools!
Also Mr. Tucker's life from a young black boy to becoming the Entrepreneur he is today and the things he learned on the way.
The truth: the Great, the Good, the Bad and the so Very Ugly.
Mr. Tucker's Book, "The Rebirth of a BLACK Nation"© addresses different facets of Life, Real History, Business, Marketing and enlightens business practices of BLACKS & Corporate America.
Darrick L. Tucker is a member with the Church of Christ at Memphis in Memphis, TN.
Mr. Tucker's Companies History:
1. Nitro Enterprises // Dallas/Fort Worth and Houston, TX
1987 - 2001
Commercial Modular Furniture Company
Mr. Tucker founded and managed Nitro Enterprises of Dallas, Texas for over thirteen years. Nitro Enterprises was an office furniture installation and reconfiguration company that had a strong customer base, which included Dallas/Fort Worth International Airport Board, Texas Instruments, World Cup USA '94, Bank One, Texas Department of Human Services, McDonald's Corporation and other well known companies. The high level of success Nitro enjoyed was due to the commitment that the President/CEO made to the business and to his clientele. He capitalized Nitro Enterprises with his personal funds and made it a highly viable business.
2. United Freight Systems (UFS) // Dallas/Fort Worth, TX and Memphis, TN
1998 - 2001
Courier Company
3. Easy Pickin's (EP) // Dallas, TX
1999 - 2009
BLACK Owned Businesses Lending Company
4. The BLACK Galaxy, Inc. (TBG) // Dallas/Fort Worth, TX and Memphis, TN
2000 - Current
BLACK Information Company
5. COC Directory (COCD) // Memphis, TN and Nationwide
2000 - 2010
Christian Information Company
6. Paradise-MC // Memphis, TN; Austin & Dallas/Fort Worth, TX
2002 - Current
Marketing, Consulting, & Web Site Firm || Publishing Company
7. Rhinos' Nation - "We are Going to Change the World!"
2010 - Present
Rebuilding BLACK Communities
We are rebuilding the BLACK communities, worldwide! Our new business venture will support our BLACK Youths, BLACK Adults, Black Communities and our Black-Owned Businesses! Plus: More & Better JOBS!
8. Young Rhinos' Club - "Leveling the Playing Field"
2010 - Present
Training BLACK Youths - for FREE!
"Training BLACK Youths to Become Entrepreneurs Before They Graduate From High School" - for FREE!!!
We would like to invite you to support our new business venture in supporting our Young Black Students!
Our goal is to help our BLACK Youths get to a level playing field amongst other Entrepreneurs, because our BLACK Youths need and deserve our help!
Credentials:
a) Dallas/Fort Worth International Airport Board (Nitro/UFS/TBG)
b) Texas Instruments (Nitro)
c) World Cup USA '94 (Nitro)
d) Texas Department of Human Services - Houston, TX (Nitro)
e) Bank One (Nitro/UFS)
f) McDonald's Corp. (Nitro)
g) Remanufacture's Plus (EP)
h) Greenery Gals (EP)
i) Reece Enterprises (EP)
j) CSC, The Consortium of Dallas, Texas (EP)
k) Prize Fight Promoters (Paradise-MC)
l) Deb's Apparel and Uniforms (Paradise-MC)
m) PW Enterprise (Paradise-MC)
n) The M.U.L.E. (Paradise-MC)
o) Toles & Associates, Inc. (Paradise-MC)
p) Joy Promotions, Inc. (Paradise-MC)
q) Mahogany, Inc. (Paradise-MC)
r) Wanni's Suga-Sweets (Paradise-MC)
…and many others.